Happy 65th Birthday! Have questions about your new Medicare coverage?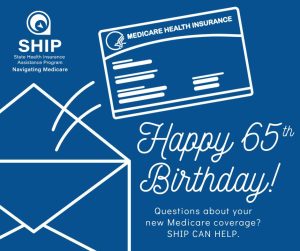 Did you know that you are first eligible to sign up for Medicare 3 months before you turn 65? You may be eligible to get Medicare earlier if you have a disability, End-Stage Renal Disease (ESRD), or ALS (also called Lou Gehrig's disease). Stay cool in August and join us for a webinar, we'll talk about the different parts of Medicare and how SHINE can help you make an informed decision.
SHINE is your FL SHIP, talk with a SHINE counselor to learn about Medicare, how to sign up, and your coverage options. To request SHINE counseling, call the Elder Helpline at 866-413-5337.