Document Center
DOEA Programs and Services Handbook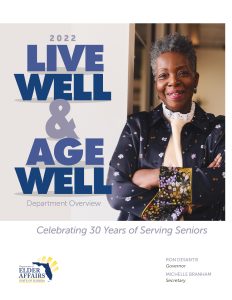 The State of Florida Department of Elder Affairs (DOEA) provides an annual Summary of Programs and Services.
Services and programs for elders vary in relation to consumer needs, demographics, funding availability and legislative directives. The links below will direct you to the DOEA's full 2018 Programs and Services Handbook.
The 2022 Programs and Services Manual has  been issued. While some sections may be updated or revised in the near future, the current version of the document can be located on the Department of Elder Affairs website.
Adult Protective Services Manual
The DOEA, Florida's Area Agencies on Aging, and the Florida Department of Children and Families produce a manual for Adult Protective Services (APS) referrals. Download the APS Referrals Operations Manual documents here (PDF).
2019 Request for Proposal (RFP)- Older Americans Act programs
The Area Agency on Aging for Southwest Florida (AAASWFL) for Planning and Service Area 8 solicited sealed proposals for services to be provided under the Older Americans Act (OAA) within Charlotte, Collier, DeSoto, Glades, Hendry, Lee and Sarasota Counties beginning on May 6, 2019.
Notice of Intent to Award
In accordance with this RFP process, you may view the notice of intent to award at this link.
The Area Agency on Aging for Southwest Florida recognizes that some content on this page may not be accessible.
Accessibility
If you require an alternate format for any content on this website please contact us.

Please indicate your preferred format for the content you have requested and your contact information.