Document Center
DOEA Programs and Services Handbook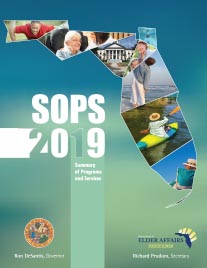 The State of Florida Department of Elder Affairs (DOEA) provides an annual Summary of Programs and Services.
Services and programs for elders vary in relation to consumer needs, demographics, funding availability and legislative directives. The links below will direct you to the DOEA's full 2018 Programs and Services Handbook.
2018 Update: Summary of Major Changes
Chapter 1-  DOEA Sponsored Programs: General Information, Planning Process and Aging Network, Monitoring, and Program Reporting Requirements
Chapter 2-  Intake, Screening, Prioritization, Assessment, and Case Management
Chapter 3-  Description of DOEA Coordination with Other State and Federal Programs
Chapter 4-  Title III and Title VII of the Older Americans Act (OAA)
Chapter 5-  Administration of the Community Care for the Elderly (CCE) Program
Chapter 6-  Administration of the Alzheimer's Disease Initiative (ADI)
Chapter 7-  Administration of the Home Care for the Elderly (HCE) Program
Chapter 8-  Emergency Management and Preparedness
Chapter 9-  Administration of the Respite for Elders Living in Everyday Families (RELIEF) Program
Appendix A-  Service Descriptions and Standards
Appendix B-  Co-Payment for Service Guidelines for Community Care for the Elderly and Alzheimer's Disease Initiative
Appendix C-  Client Information and Registration Tracking System (CIRTS)
Appendix D-  Minimum Guidelines for Recipient Grievance Procedures
Appendix E-  Background Screening Clearinghouse Instructions
Adult Protective Services Manual
The DOEA, Florida's Area Agencies on Aging, and the Florida Department of Children and Families produce a manual for Adult Protective Services (APS) referrals. Download the APS Referrals Operations Manual documents here.
AAASWFL Form 990
As a 501(c)(3) charitable organization, the Area Agency on Aging for Southwest Florida completes a Form 990 annually to comply with the Internal Revenue Service.  The Form 990 is completed by tax-exempt organizations, nonexempt charitable trusts, and section 527 political organizations.
Click here for the Area Agency on Aging for Southwest Florida's 2017 Form 990.
2019 Notice of Request for Proposal (RFP)
Contingent upon the availability of funds, the Area Agency on Aging for Southwest Florida (AAASWFL) for Planning and Service Area 8 will be contracting and is soliciting sealed proposals for services to be provided under the Older Americans Act (OAA) within Charlotte, Collier, DeSoto, Glades, Hendry, Lee and Sarasota Counties beginning on May 6, 2019 at 10:00 a.m.
Download the 2019 RFP Documents
Proposal documents may be obtained electronically by downloading the following files.  Because of file size limitations, the 2019 OAA RFP for AASWFL is contained in two .zip folders. Please download both folders for the full contents of the RFP package.
AAASWFL OAA RFP and Appendices
NOTE: Because of a correction, the OAA RFP and Appendices file was updated on 5/14/2019.  The original bidder's checklist (Appendix XII) provided an incorrect deadline of July 8, 2019 for proposals. The correct date is July 9, 2019.  The updated document is now attached above.
Bidders Conference
A bidders conference will be held on May 29, 2019 at 1:00 p.m.  at the AAASWFL North Fort Myers office (15201 N. Cleveland Ave., Ste. 1100, North Fort Myers, FL, 33903).  Attendance at the bidders conference is not mandatory.  Sealed proposals are due in the AAASWFL office as shown above by 3:00 p.m. July 9, 2019 with bids opening immediately following.
AAASWFL reserves the right to reject any and all proposals not in compliance with specifications and requested information.  Any questions concerning this request  may be addressed in writing to Becky MacKenzie, Director of Programs and Planning, Area Agency on Aging for Southwest Florida, Inc.