Volunteer at AAASWFL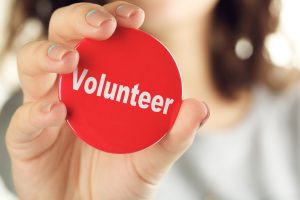 Want to make a difference in the lives of older adults and adults with disabilities?  Volunteer at the Area Agency on Aging for Southwest Florida.  More than 70 volunteers help us deliver programs to seniors and adults with disabilities across our seven-county service area.  Bilingual volunteers are especially needed, although the ability to speak multiple languages is not required.  Health & Wellness and SHINE volunteers are reimbursed for mileage and in some cases may receive free training.
Health & Wellness Volunteers
Do you enjoy encouraging others to live a healthier lifestyle?  You can volunteer as a health and wellness leader for AAASWFL!  In 2017, nearly 500 seniors and people with disabilities took advantage of AAASWFL's health and wellness workshops.  Many of these workshops are led by volunteer instructors.
AAASWFL's health and wellness volunteers lead a variety of workshops, including:
A Matter of Balance
Tai Chi: Moving for Better Balance
Tai Chi for Arthritis for Falls Prevention
Walk with Ease
Arthritis Foundation Exercise Program
Chronic Disease Self Management Program
Chronic Pain Self Management Program
Powerful Tools for Caregivers
How to Become a Health & Wellness Volunteer
If you are interested in becoming a volunteer, call the Area Agency on Aging at (239) 652-6900, or download and fill out an application (Microsoft Word).
SHINE Volunteers
SHINE (Serving Health Insurance Needs of Elders) relies on volunteers to deliver free, unbiased, one-on-one Medicare counseling.  No experience necessary– SHINE volunteers receive free, professional training from AAASWFL and the Florida Department of Elder Affairs.  A background in health care, insurance, or finance is helpful, but anyone with good computer and customer service skills is welcome.  Applicants should be willing to complete additional training courses and must be able to pass a level 2 background screening.
As a SHINE volunteer, you will have the opportunity to:
Provide Medicare and health insurance information, counseling, and assistance in person, or over the phone
Deliver educational presentations or speeches
Promote the SHINE program in your community
Provide training and leadership to other volunteers
Assist with general program support
Apply to be a SHINE Volunteer
The SHINE volunteer application can be found on the Florida SHINE website. For more information about becoming a SHINE volunteer, call the Area Agency on Aging at (239) 652-6900.
Hurricane  Season is Here: Volunteers Needed
Hurricane season runs from June 1 until November 30. The Department of Elder Affairs is recruiting volunteers to be part of the Hope Heroes Program to be ready to support seniors before and after a hurricane strikes. What does disaster assistance look like as a Hope Hero?
Loading and unloading sandbags before a storm
Working in special needs shelters to provide assistance to seniors
Helping older residents put shutters on their home
Distributing food and materials to seniors before and after a storm
Assisting with minor yard debris clean up
Sign up today at helpcreatehope.com so you can be ready to help as soon as the need arises!
Advisory Council
The AAASWFL Advisory Council is a volunteer group that provides guidance and support to Area Agency on Aging staff and board of directors.  Members can hail from any part of the AAASWFL planning and service area of Charlotte, Collier, DeSoto, Glades, Hendry, Lee and Sarasota Counties.  Advisory Council members serve as a vital link between AAASWFL and the aging population in their local communities.  While advisory council members can be any age, the Florida Department of Elder Affairs requires that at least half of the members of the advisory council are age 60 or older. For additional details, learn about our advisory council (PDF).
Apply to Join the Advisory Council
To apply to become a member of the AAASWFL advisory council, please download the Advisory Council Application (PDF) and email your resume and completed application to ea@aaaswfl.org.
Apply to Join the Board of Directors
To apply to sit on Area Agency on Aging for Southwest Florida's  board of directors, please download the Board of Directors Application (PDF) and email your resume and completed application to ea@aaaswfl.org.
Accessibility
If you require an alternate format for any content on this website please contact us.
Please indicate your preferred format for the content you have requested and your contact information.