We're Hosting Our First Community Health & Resource Fair on September 15, and You're Invited!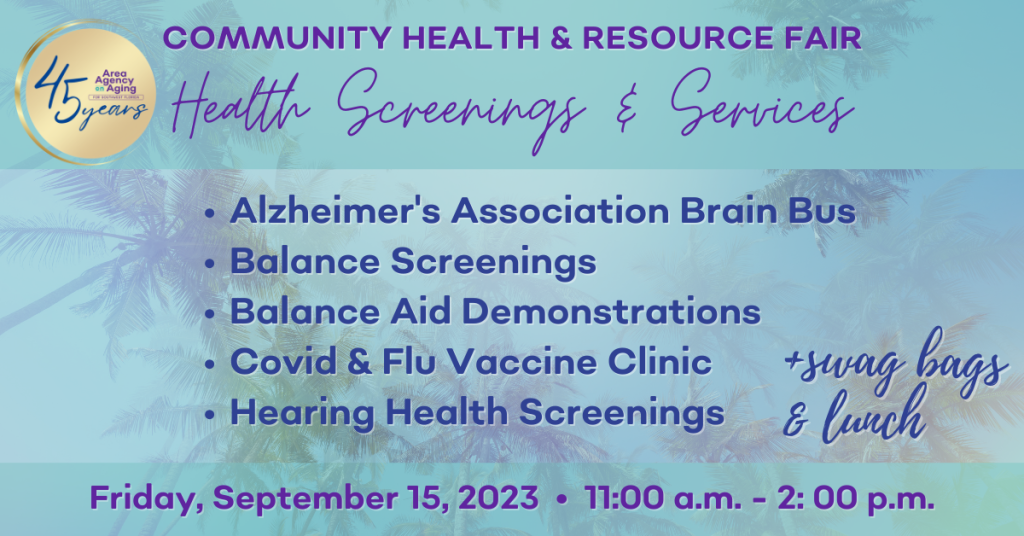 As part of our 45-year anniversary celebration, we will be hosting our first Community Health & Resource Fair on Friday, September 15, 2023. The fair runs from 11:00 a.m. to 2:00 p.m. at 2830 Winkler Avenue, Suite 112, Fort Myers, Florida 33196.
Who is this fair for?
Everyone is invited to come and get to know us! Free health screenings, community resources, education, giveaways and more will be available to those 60 and older, adults with disabilities, and their families and caregivers. Free lunch will be provided to the first 25 attendees to arrive thanks to the generosity of sponsors Florida Power & Light and Pacos Tacos. Additional refreshments available for purchase.
Screening and Services
The Alzheimer's Association's Brain Bus will be onsite. Trained staff will be available to help families understand steps to an accurate diagnosis, warning signs, caregiving tips and connect to local resources. No appointment needed.
Balance screenings by Lee Health Rehabilitation will help assess your balance and stability through a simple test, helping to identify issues that could lead to falls and provide insights into potential corrective measures.
Stabilized Steps will be conducting balance aid demonstrations in addition to balance screenings.
Hearing screenings will be provided by Connect Hearing.
Free COVID vaccines and boosters will be available.
Free flu shots will be offered.
To register for this free event, click on the link.
Funds raised will go toward assisting older adults and adults with disabilities in crisis when no other resources are available. Donations to support older adults in crisis are welcome, visit https://aaaswfl.org/how-to-help/donate/.