DOEA Programs and Services Handbook
The State of Florida Department of Elder Affairs (DOEA) provides an annual Summary of Programs and Services.  Services and programs for elders vary in relation to consumer needs, demographics, funding availability and legislative directives. The links below will direct you to the DOEA's 2017 Summary of Programs and Services documents.
2017 Update: Summary of Major Changes
Chapter 1-  DOEA Sponsored Programs: General Information, Planning Process and Aging Network, Monitoring, and Program Reporting Requirements
Chapter 2-  Intake, Screening, Prioritization, Assessment, and Case Management
Chapter 3-  Description of DOEA Coordination with Other State and Federal Programs
Chapter 4-  Title III and Title VII of the Older Americans Act (OAA)
Chapter 5-  Administration of the Community Care for the Elderly (CCE) Program
Chapter 6-  Administration of the Alzheimer's Disease Initiative (ADI)
Chapter 7-  Administration of the Home Care for the Elderly (HCE) Program
Chapter 8-  Emergency Management and Preparedness
Chapter 9-  Administration of the Respite for Elders Living in Everyday Families (RELIEF) Program
Appendix A-  Service Descriptions and Standards
Appendix B-  Co-Payment for Service Guidelines for Community Care for the Elderly and Alzheimer's Disease Initiative
Appendix C-  Client Information and Registration Tracking System (CIRTS)
Appendix D-  Minimum Guidelines for Recipient Grievance Procedures
Appendix E-  Background Screening Clearinghouse Instructions
Adult Protective Services Manual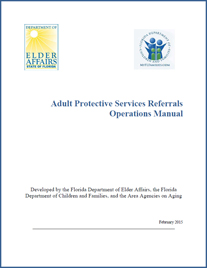 The DOEA, Florida's Area Agencies on Aging, and the Florida Department of Children and Families produce a manual for Adult Protective Services (APS) referrals. Download the APS Referrals Operations Manual documents here.
Unit Cost Methodology
Elder care providers each offer a variety of services.  The DOEA Unit Cost Methodology helps lead agencies to project the cost of delivering services.  Use of this formula is a requirement for community partner funding.  Bidders must follow the Unit Cost Methodology when estimating costs. Download the Unit Cost Methodology (2018-2019 SGR Contract Module Worksheets.xls) here.